Welcome to the world where business meets the day's first meal, and productivity is paired with the perfect bite. In our fast-paced professional lives, there's a growing recognition of the importance of morning gatherings that fuel collaboration and nourishment – the Breakfast Meeting.
This guide delves into the art of hosting the perfect Breakfast Meeting, exploring how ambiance, culinary delights, and seamless service can transform your early gatherings into productive, energizing, and memorable moments. It's time to revitalize your mornings and redefine the way you approach business over the breaking of dawn.
Tips for catering for a breakfast meeting
Organizing a breakfast meeting for your corporate clients or employees is a great way to start the day positively. It provides an opportunity for networking and team building and ensures that everyone is energized and ready to tackle the day's tasks. However, catering for a breakfast meeting requires careful planning and attention to detail. Here are some tips to help you ensure that your breakfast meeting is a success.
Understand the needs and preferences of your audience
Before planning the menu for your breakfast meeting, it is crucial to understand your audience's dietary restrictions, allergies, and preferences. Send out a survey or questionnaire in advance, allowing attendees to specify any dietary requirements or preferences they may have. This will help you choose the right mix of breakfast options that cater to everyone's needs.
Offer a variety of options
To accommodate various tastes and dietary needs, offering a wide range of breakfast options is important. Include savory and sweet options, such as scrambled eggs, bacon, fruit platters, pastries, yogurt, granola, and different types of bread. Providing a variety of options will ensure that there is something for everyone, making the breakfast meeting more enjoyable for all participants.
Keep it fresh and healthy
In today's health-conscious society, it is important to provide options that are not only delicious but also nutritious. Opt for fresh and seasonal ingredients to add flavor and vibrancy to your breakfast menu. Consider including a selection of fresh juices, smoothies, and whole-grain options to cater to those who prefer healthier choices. Balancing indulgent treats and healthy alternatives can satisfy everyone's cravings while promoting overall well-being.
Incorporate local and sustainable options
Supporting local businesses and sustainable practices is good for the environment and helps create a positive brand image. When planning your breakfast meeting menu, source ingredients from local suppliers and choose sustainable options whenever possible. Not only will this demonstrate your commitment to the community and the environment, but it will also provide a unique touch to the breakfast experience.
Don't forget the coffee and tea
No breakfast meeting is complete without a good selection of coffee and tea. Ensure that you have various options available, including caffeinated and decaffeinated coffee and different types of tea, such as green tea, herbal tea, and black tea. Accompany these beverages with a selection of creamers, sweeteners, and flavored syrups, allowing attendees to customize their drinks to their liking.
Top 10 breakfast ideas for an early A.M. office get together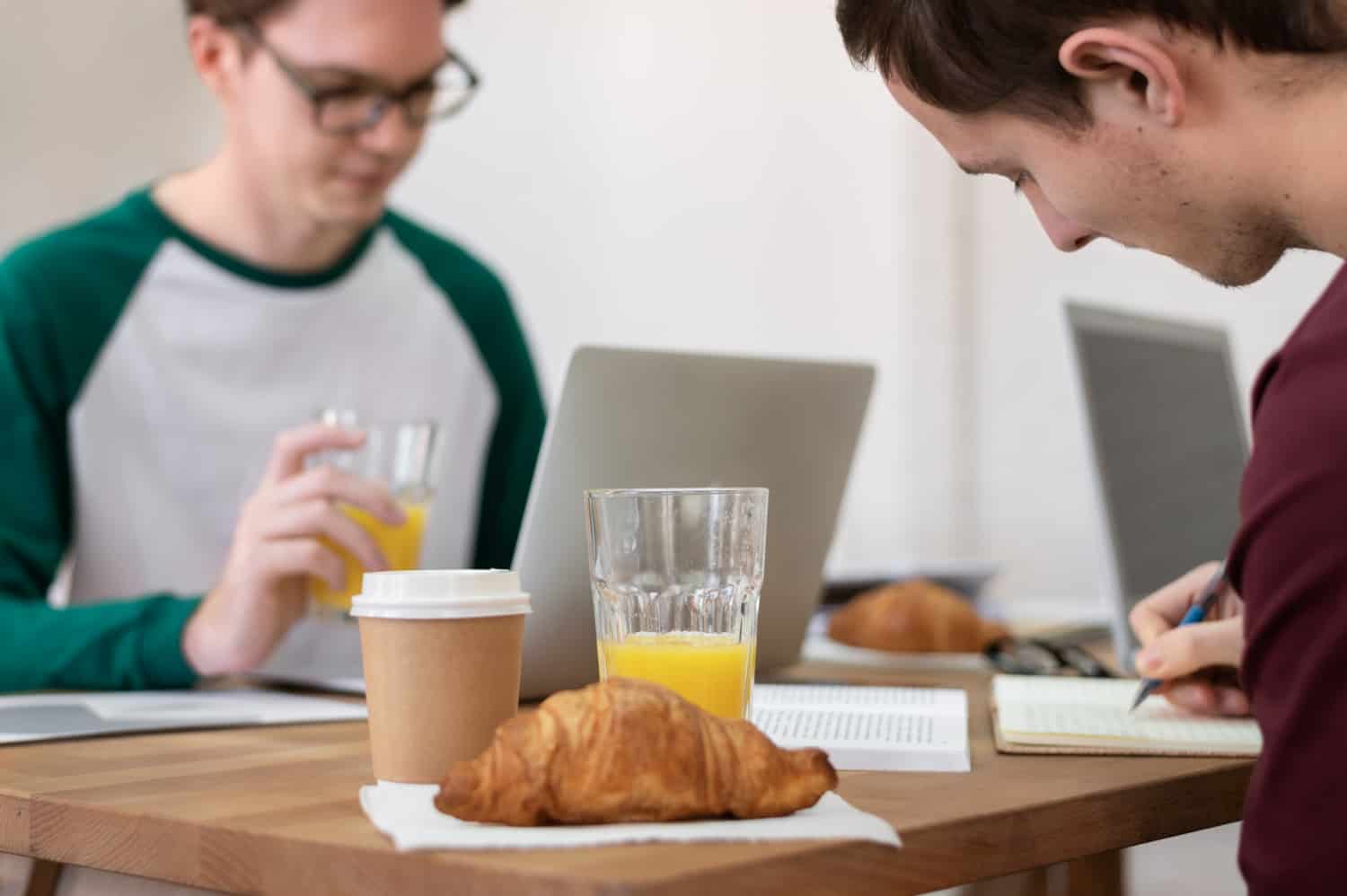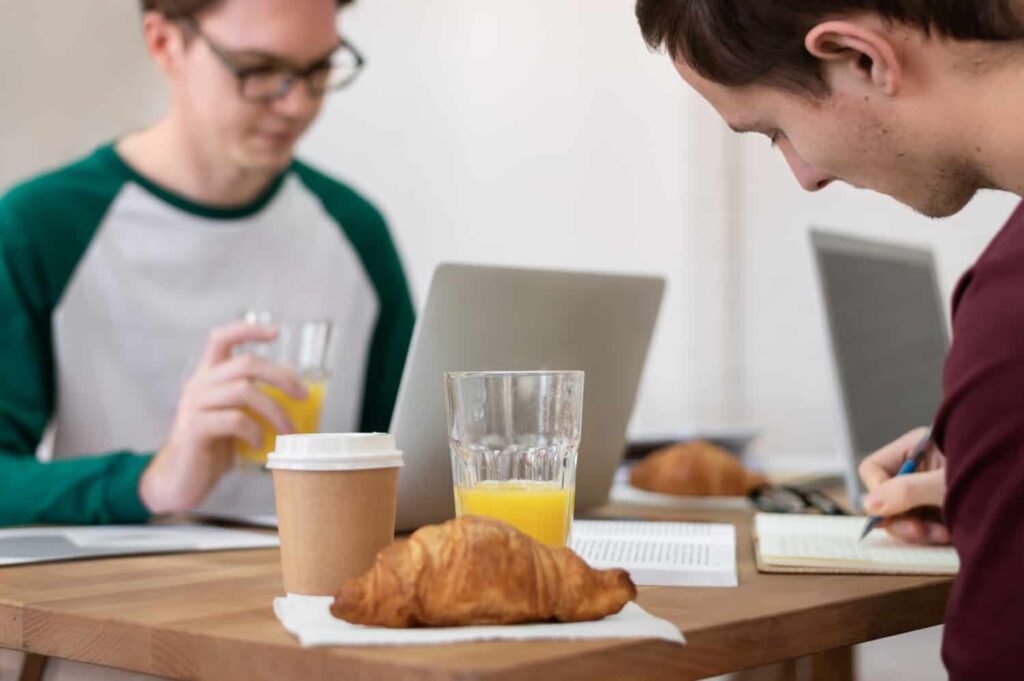 Planning a breakfast meeting and looking for fresh and exciting ideas to impress your attendees? Here are 10 breakfast ideas that are perfect for an early morning office get-together:
1. Breakfast sliders
Serve up a variety of mini breakfast sandwiches with different fillings such as bacon, egg, cheese, sausage and egg, or avocado and tomato. These bite-sized delights are easy to eat while mingling and provide a satisfying start to the day.
2. DIY Yogurt parfait bar
Set up a self-serve station with bowls of yogurt, fresh fruits, granola, nuts, and honey. This allows attendees to create their own personalized and healthy breakfast parfaits. It's a fun and interactive option that caters to different tastes and dietary restrictions.
3. Mini Quiches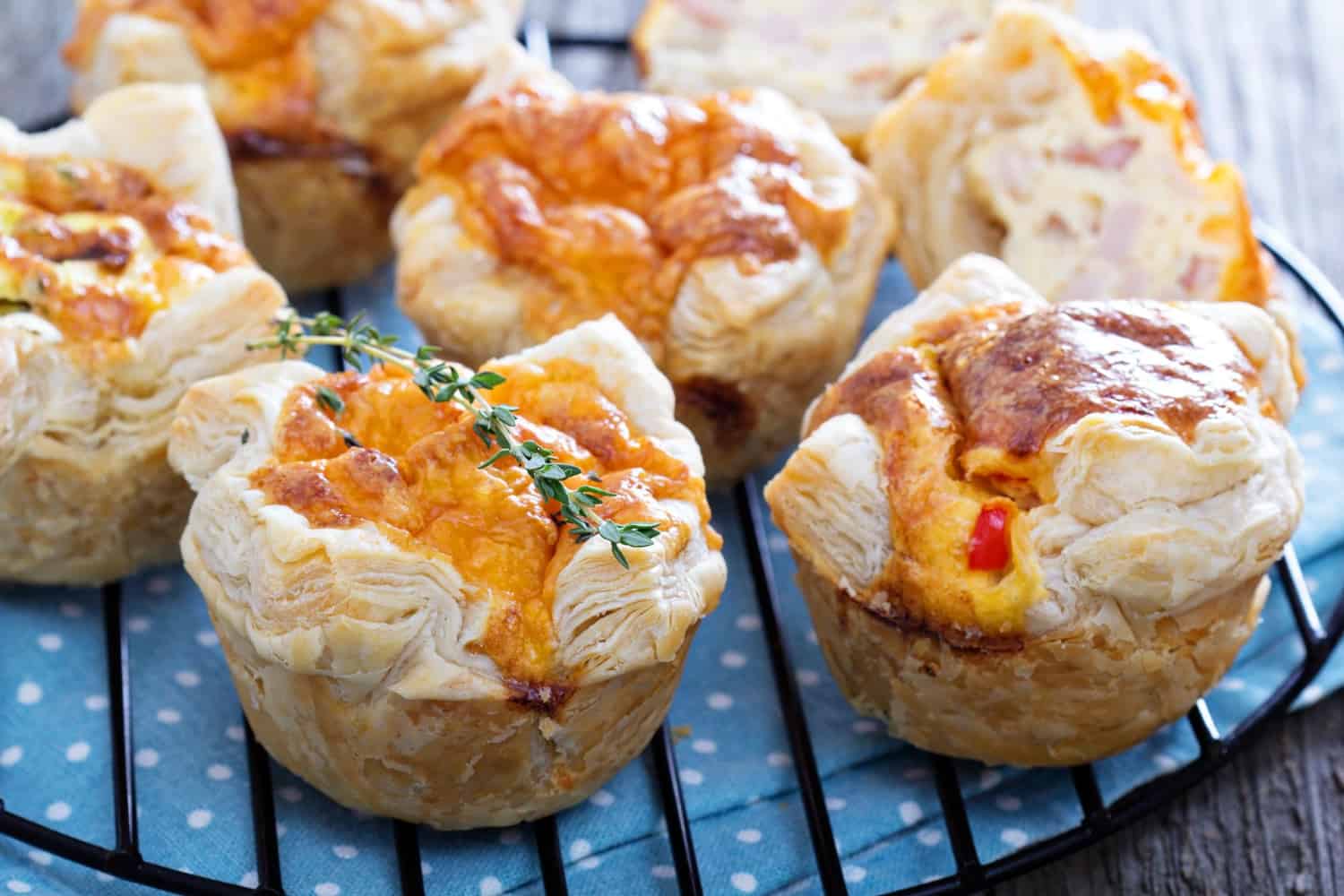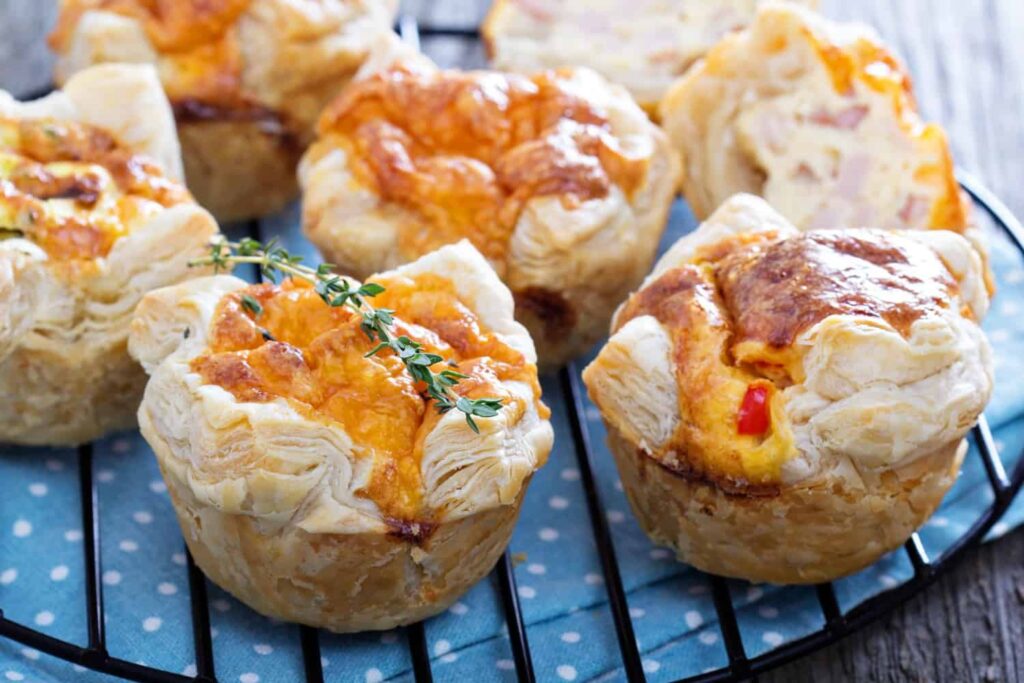 Mini quiches are a versatile option filled with various ingredients such as cheese, ham, spinach, or mushrooms. They are easy to handle and offer a delicious and savory breakfast experience.
4. Breakfast Burritos
Wrap up scrambled eggs, bell peppers, onions, cheese, and your choice of meat in tortillas to create filling and portable breakfast burritos. Provide a variety of sauces and toppings for added flavor and customization.
5. Waffle Bar
Set up a waffle station with toppings such as fresh fruit, whipped cream, syrup, honey, and nuts. Attendees can create their own delicious and indulgent waffle creations.
6. Mediterranean Breakfast Platter
Offer a platter filled with various Mediterranean-inspired breakfast options like hummus, pita bread, olives, feta cheese, fresh tomatoes, and cucumbers. This is a perfect option for a lighter, refreshing breakfast.
7. Smoothie Shots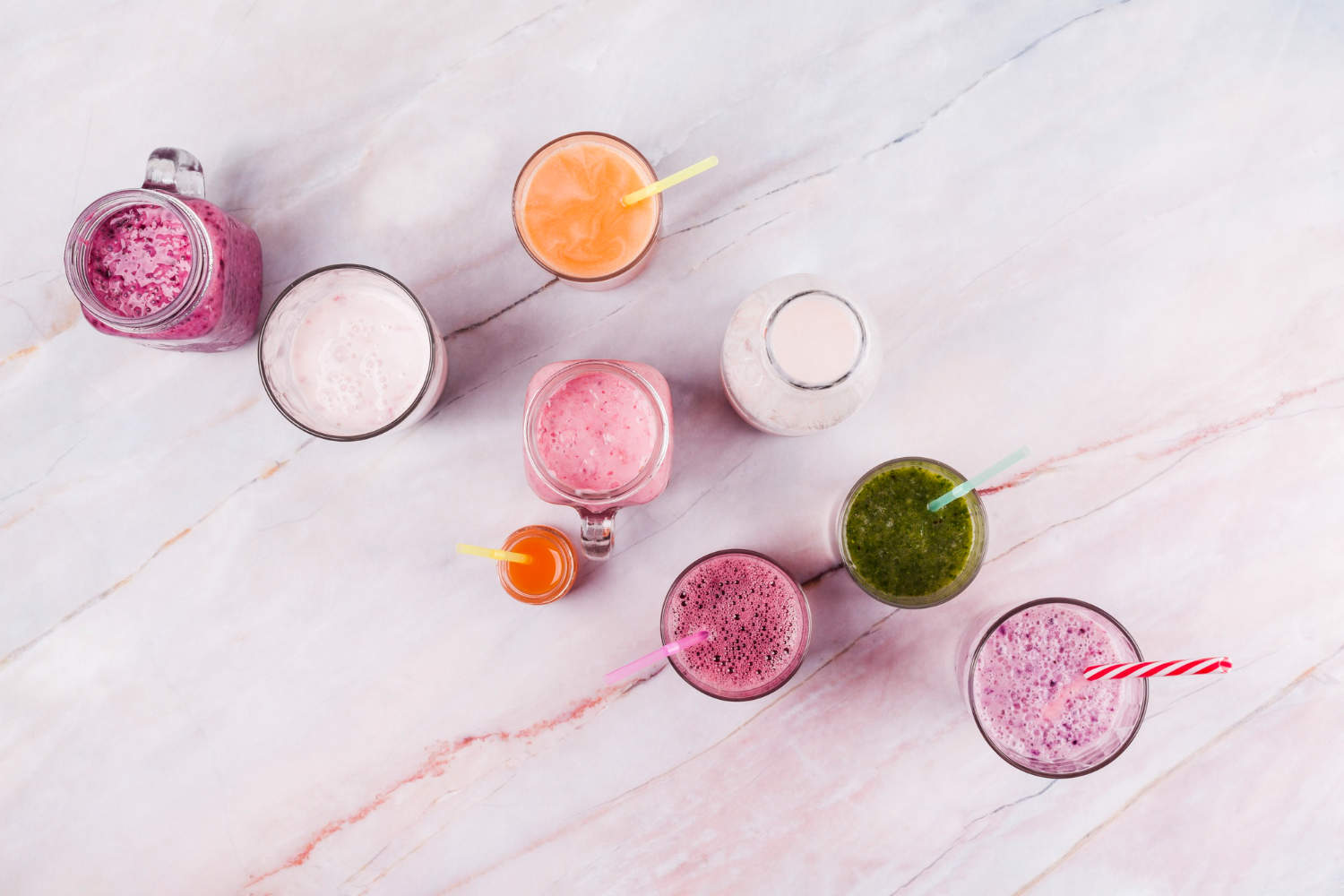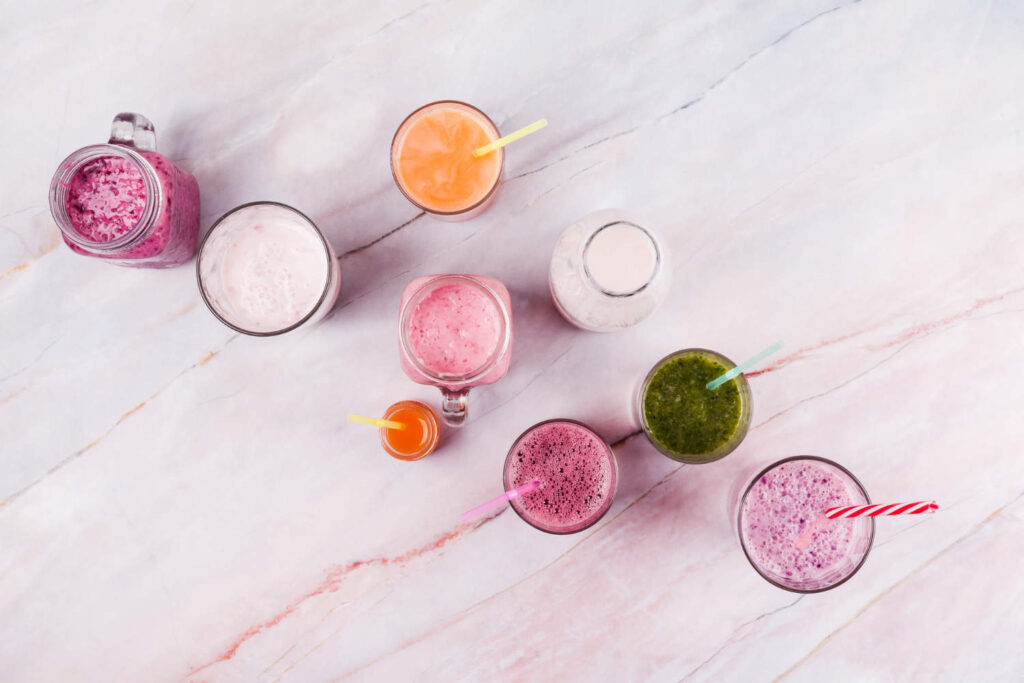 Serve small shot glasses filled with different smoothie flavors such as strawberry banana, mango pineapple, or berry blast. This allows attendees to enjoy a refreshing and nutritious drink in small portions.
8. Mini Pancake Stacks
Stack mini pancakes with butter and maple syrup, and add a variety of toppings like fresh fruit, chocolate chips, or whipped cream. These cute and delicious stacks are sure to be a hit with attendees.
9. Bagel Bar
Provide a variety of bagels accompanied by different cream cheese spreads, smoked salmon, sliced tomatoes, red onions, and capers. This classic breakfast option allows attendees to create their own perfect bagel sandwiches.
10. Energy Bites
Offer bite-sized energy balls with oats, peanut butter, honey, and dried fruits. These nutritious and portable treats provide a quick energy source, perfect for those on the go.
By incorporating these breakfast ideas into your morning office get-together, you can create a memorable and enjoyable experience for all attendees. Remember to tailor the menu to suit dietary restrictions and preferences while balancing indulgent and nutritious options.
In conclusion, catering for a breakfast meeting requires careful consideration of the attendees' needs and preferences. By providing a variety of options, keeping the menu fresh and healthy, incorporating local and sustainable choices, and paying attention to coffee and tea selections, you can create a breakfast experience that leaves a lasting impression.